GM slashes XM prices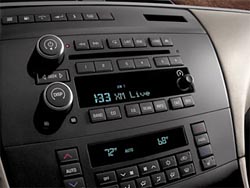 Speaking of satellite radios…

While Volvo will be making Sirius radio satellite available as a factory installed option for Volvo 2007 including the S40, S50, C70 and the redesigned S80, General Motors has announced that it is slashing the price of XM Satellite Radio to $199 for the 2007 model year, down 38.8 percent over last year's price of $325. The new price goes into effect immediately, and those who purchase still get the first three months of service included, with subsequent months costing $12.95 per month.

HUMMER won't be participating in the price cut, however. But according to Automotive News, offering up XM is a sorta lucrative activity for GM, as the automaker gets a cut of subscription fees, as well as some extra cash each time its OnStar employees handle XM-related service calls.